5 Celebrity Wedding Poses to Recreate For a Bollywood Style Album
Are you and your fiancé often referred to as the filmy couple? Great! But, with the big day fast approaching, are you still confused about how to have a memorable wedding album?  Thinking of trying something new? Professional wedding photographers believe re-creating some Bollywood wedding poses can be the perfect way to celebrate the most special day of your life.
Bollywood rules the heart of many all throughout India. Whether you love Bollywood insanely or remember every iconic movie dialogue by heart, going a little filmy for your wedding album can be a great option. Although many couples love sticking to the traditional romantic photoshoots, it's always good to stand out from the crowd. And, for couples who are highly influenced by Bollywood, recreating wedding poses of celebrities can an informed decision.
Here's a list of beautiful wedding poses you can steal from Bollywood celebrities.
Gorgeous Poses You Can Recreate From Celebrity Marriages For Your Wedding Album
1. True Love
Virat Kohli and Anushka Sharma are one of the most loved celebrity couples in recent times. Though the couple's marriage was entirely a private affair, there mesmerising wedding photos took the internet by storm. The viral photos of Virushka were very enchanting because each of the images exuded true love. Photographers captured the couple's smitten glances and expressions with love, leaving people completely blown away by the authenticity of their joy.
2. The Nawabi Style
Adding a Nawabi twist to your wedding album can be a great way to have unique portraits. Take inspiration from Saif Ali Khan and Kareena Kapoor who looked absolutely majestic and spectacular in their official wedding photo. The couple recreated the look from the wedding photo of Nawab Mansur Ali Khan Pataudi and Sharmila Tagore. Kareena donned the same bridal wear her mother-in-law wore.
3. Simple and Stunning
Are you a couple who likes to keep everything simple? Consider taking cue from Shahid and Mira Kapoor's wedding photos. Though the couple's photos were low key, each of their pictures turned out to be striking. Despite being celebrities, the newly wedded couple charmed the fans with easy elegance. So, if you wish to have portraits which reflect elegance, you can recreate their poses!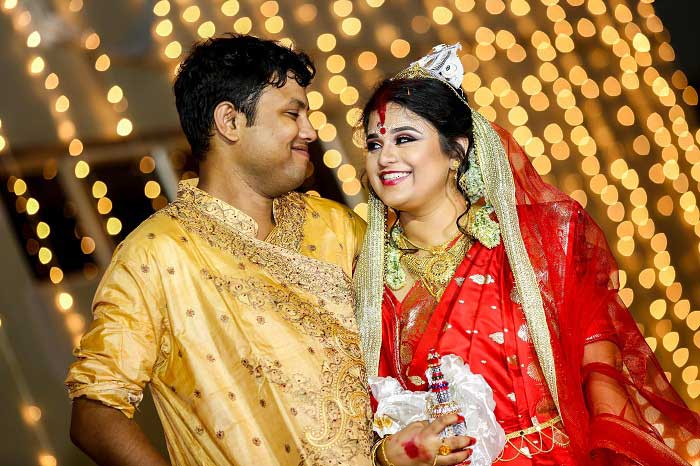 4. Magic & Ethereal
Having the magical wedding you always dreamt of? Hiring the best candid wedding photographers can be the ideal way to captivate every moment of your special day in beautiful frames. Take inspiration from Bollywood actress Asin's wedding to businessman Rahul Sharma and re-create their stunning poses for a memorable wedding album. All you need to do is pose subtle romantic expressions and have your photos clicked with gorgeous backdrop.
5. Goofy Business
Couples who are fun, fabulous and charming can take cue from the pre-wedding photos of celebrity couple Bipasha Basu & Karan Singh Grover. Browse through the internet and you will see a series of funny, cute and yet romantic photos which define the tone of this couple's wedding. The photos are bound to win your heart!
Time to recreate the famous celebrity wedding poses and weave some magic in your wedding album!