Wedding Photographers in Kolkata
At PIP Broadcast & Equipment, with our team of experienced photographers at work, you will certainly get the best quality photos capturing every precious moment of your D-Day. We have made a name in best wedding photography in Kolkata making it a point to deliver the best quality photos with beautifully captured moments. Marriage is a special day. Hence the day and the moments will not come back again. Let us capture it all and frame it for you.
BEST TEAM OF PROFESSIONALS FOR WEDDING PHOTOGRAPHY IN KOLKATA, INDIA
Matches are made in heaven, and bridals make them a reality. It is indeed one of the most important days in the life of the bride, groom and their families.
Do you want to capture and preserve every moment of your D-day? We can make your dream come true. PIP Broadcast & Equipment, with the best team of photographers, makes sure that every smile, every emotion and every wow moment of your marriage gets captured.
We have experienced wedding photographers in Kolkata who will make you feel at complete ease and capture the surreal moments of your day.
Services Offered by Our Photographers of Bengali Wedding

Pre-wedding Photoshoot
It is always advisable that you check the reputation before hiring professionals for bridal photoshoot. In case you're doubtful about the quality of our services, try our pre wedding photography session before booking us for the main day. Not only will this give you a chance to see the quality of our work, but it is also going to proffer us the opportunity of gel with you in a better way. We are been appreciated countless times for the kind of comprehensive services that we provide as part of our pre-marriage photo sessions. You can rest assured that you will be hastening to book our services for your marriage day once you see your pre-wedding photography.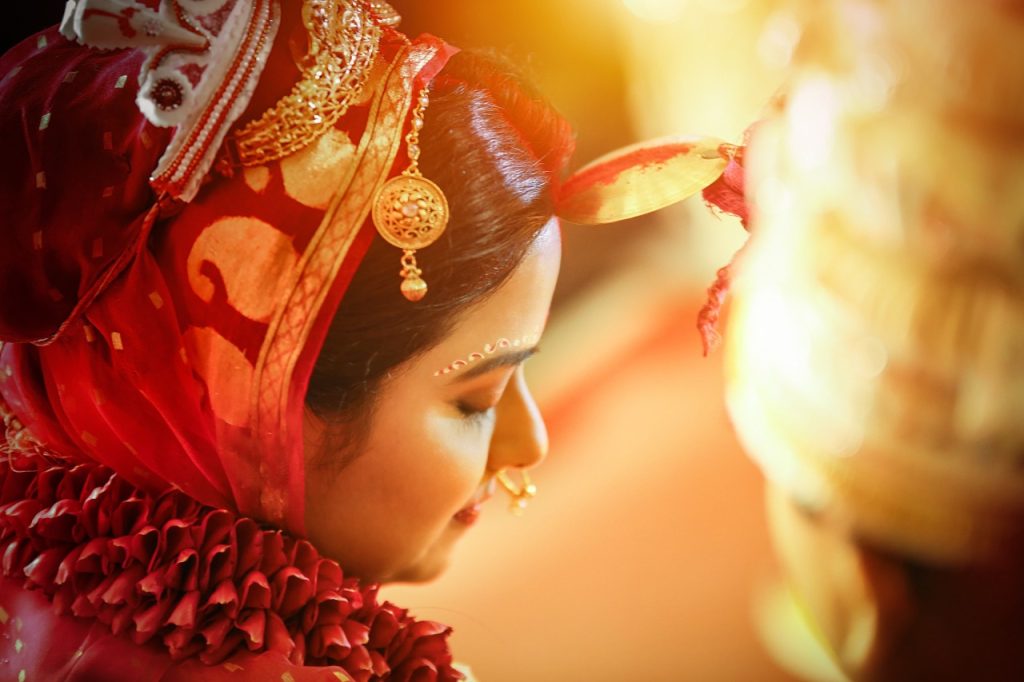 Candid Wedding Photography
Our mission is to capture candid moments and we've undeniable expertise in this field. Check our website for samples of bridal photoshoot. If you think that you will have to break your bank to book photography services of such high quality, you are mistaken. Our services are extremely affordable but you can be sure about the fact that there will be no compromise on the high standards that we have set for ourselves. Candid wedding photographers in Kolkata has become preferable to posed photoshoot because of the rigidness associated with the latter. The formula is simple; posing for a photograph makes the subject conscious, this leading to very unimpressive photographs. With candid photography, however, because the subject usually does not know that he or she is being photographed, the realness becomes very apparent.
Cinematic Wedding Videos
Do you want a cinematic wedding video? Who would not want the same? PIP Broadcast is the name that you can vouch on if you want a cinematic marriage experience. We also have an experienced team of cinematographers to capture the bridal shots and make a movie like experience. You have to realize that we have been in the business for 7 years and were avid photographers since a very young age, so you can deduce the mastery we have achieved over every nuance in the matter. If you have any expectations in your mind about how the video is going to turn out, you can rest assured that we are going to exceed all your expectations.
"Let us make your moments more special and memorable!"
FINDING THE BEST CANDID WEDDING PHOTOGRAPHER IN KOLKATA CAN BE A DAUNTING TASK

Do you and your partner freeze in front of the camera? Don't let these thoughts pester you on your wedding day. Hire the best candid photographers in Kolkata from PIP Broadcast & Equipment.
Enjoy and live through every moment of your bridal day and let our experts do their jobs. Our team of bridal photographers have an eye for detail. We can assure you that we will not miss out on a precious moment or expression of you and your partner on your marriage ceremony.
Let the love and chemistry between you and your spouse shine bright. We need one moment to click and capture the same for a lifetime.
PIP Broadcast & Equipment Offers the Best Marriage Photography Services in Kolkata
Over the years, at PIP Broadcast our focus has been in clicking the most captivating moments of your big day. We've a core team of professional wedding photographers who can guide you throughout the day and help you give your best shot. From videos to reels and photos – we have expertise in everything. Trust us for the best bridal photoshoot.
Candid Wedding Photographer to Capture Bengali Bridal Scenes

You'll find an ensemble of colours in every Indian, especially a bengali bridal. Hence you must hire a photographer who is talented enough to capture every colour of the day with equal importance. We use advanced cameras and technological solutions like drones for capturing every little moment of the marriage day.
While many people are of the opinion that there might be pandemonium aplenty whenever there is a bridal in a house, we prefer to look at it differently. Our aim is to find the order in that chaos as that is one of the surest ways to capture the best photographs.
Additionally, if you think that we only specialise in clicking photographs for Bengali weddings, you should know that we offer our services for everyone. Whether you are Bengali, Marwari, Gujarati, Punjabi, Tamil or from any other part of India living in the City of Joy, you can rest assured that we are going to devote the same kind of dedication. Also, all the events that constitute an Indian bridal, be it the marriage itself, or the accompanying events in the form of Sangeet, Ashirvad, Mehendi, Haldi Ceremony and Reception, are all occasions that we thrive in and capture only the best candid wedding photography in Kolkata, India. From the happy occasion of the groom arriving at the bridal location to the sad moments of the bride's departure, you can be sure of the fact that our candid wedding photographer will do a job that will just mesmerise you.
Why Choose PIP Broadcast ?
At PIP Broadcast, we offer the best wedding photography, marriage videography and candid wedding photoshoot. Here's what you can expect from us:
We have a specialist team of photographers to make your marriage ceremony memorable.
We offer all bridal photoshoot at the most affordable rates.
We have 12 years of experience in matrimony photos, videos and cinematic bridal photoshoot as well.
We provide the best customer service and prompt response to all our clients.
We provide customised photography packages matching the personality of the customer.
Creative Services

Jimmy Jib Service
This is called Jimmy Jib. This is very useful for getting highshots or it can be used to cover a  great distance. Also it can move both horizontally and vertically.
LED and Plasma service
We used both LED and plasma for projection purpose in many Sangeet Sandhya, Marriage and Reception party. depending upon client's demand.
Photo Booth
At any Marriage or Reception party everyone tried to catch each and every emotion of both bride and groom. Guests never got that musch
attention for photographers.
Unique Moments Become Everlasting Memories

There cannot be any argument against the fact that for the bride or indeed the groom, the special moments of their bridal day often become blurred simply due to the number of things that go on through the day. This is why they always want a good wedding photographer in Kolkata to capture on reel every moment so that they can watch the photos whenever their heart desires. It is imperative that the photos are as true to the reality as possible, and our team of expert photographers make sure of that. Whether it is pre-bridal photoshoot, during the matrimony or the Reception Ceremony, you can be sure of the fact that we are going to do an exemplary piece of work.
After all, a matrimony is the association of two souls for incarnations, and what better way to make the event even more memorable by appointing a marriage photographer. With numerous bridals that we have shot, we look forward to shooting the best pictures at your matrimony as well.
Cinematic Wedding Video – The Way Forward
One of the things that have encapsulated the young generation is a cinematic representation of their matrimony. While videos have been shot at bridals for a long time, the cinematic representation thereof is definitely another piece of cake. Couples consult with professional cinematographers to create the best stories through which their journey from coming to know of each other right down to the marriage can be expressed. You are pretty much guaranteed that anyone who will lay their eyes on the cinematic presentation cannot be able to stop themselves from appreciating. At PIP Broadcast & Equipment, we have a team of cinematographers who have natural creativity about them and will help you tell your love story in the most beautiful way. After all, your marriage is the culmination of your love story, and there is hardly a better way to let everyone know about it than make it seem as if it was the story of a film. If you thought that our candid wedding photography in India was good, wait till you see the cinematic video.
Capturing All the Aspects of a Wedding
It has to be understood that while a wedding is the celebration of the coming together of two souls, there are plenty of other things that go on concurrently all the time. Our wedding photographers at PIP Broadcast & Equipment are extremely proficient in taking beautiful photos of everyone present at the occasion. So whether it is your aunt or a former teacher whom you might have invited to the matrimony, you can be sure that if their photos are taken by us, they will be amazing and candid at the same time.
Time is never an issue with us, and we devote all our attention to a that we are covering. There is always a group of at least 2 professionals who are entrusted to cover a matrimony. We ensure that we click our photos in different areas of your big day. There is no chance that anything important will be given a miss and your marriage album will have all the best photos to show off after our bridal photographers are done with it.
Wedding Stories

Wedding Photography Story
Capturing the special moments of your life. Words are not required to express ... as the pictures are speaking instead .......
Candid Wedding Photography
We try to focus you .... your happiness .... it feels that you belongs to another world. where everything is so beautiful .... everyone is so happy .. we also try to catch that .. the happiest moment of your life.
Finding beauty in all of the colors of life .... we not only just own these pictures .... we also try to give credit to the sources too ....try to show the glow and happiness that reflects in your face
Our Specialisation

PIP Broadcast best candid photographer in Kolkata offers satisfactory services, including wedding photography and video album. We are specializing in delivering quality work by trusted wedding photographers with affordable packages. Our specialization combines with bridal films, candid photography, traditional marriage, pre-wedding, commercial and advertisements. Our main objective is to focus on customer satisfaction with the combination of latest technology and skilled manpower.
OUR MOBILITY TO CAPTURE WEDDING CEREMONY
We travel across the nation to capture the Pre Wedding, Matrimony ceremony along with Reception. We went to Ahmedabad, New Delhi, Gaziabad, Benaras, Deoghar, Ranchi, Rourkela, Bhubaneswar, Tatanagar, Siliguri and many more places in India for Bridal Photoshoot and Videography. We worked for Gujrati, Marwari, Punjabi, Marathi, Kerelian, Orrissi, Bihari, Muslim, Christian and Bengali Marriage.
FAQ
1. How big is Your team?
We are currently a team of 12
2. How early do I book your service ?
We book on a first come-first serve basis. if your bridal is on a popular date, we highly
recommend approaching us at least 6 months in advance.
3. What does your wedding package include?
We are a Cannon exclusive team and only use the best Cannon gear for both photography and video.
Videography

If you are somehow not interested in us making a cinematic wedding video for you, you should know that we are equally adept at offering regular videography services, in addition to candid photography. While there is nothing fancy about these videos, it has to be agreed that it is a classic way of seeing the things that went down on your special day. The fact of the matter is that whatever service you choose to get from us, you are guaranteed high-quality results. We put in a lot of attention to how the photos and videos we shoot turn out, and since the scenes cannot be recreated, we have to get it right the first time; and that is what we do..
We have come from strength to strength owing to the quality of our work and you can be sure that there will never be any complacency on the part of the bridal photographer in India. We will keep getting better with every wedding that we cover and since this a never-ending quest, we consider that the sky is the limit for us.
Unending Striving for Excellence
As our commitment is to excellence, you can well understand the lengths that we can go to in order to achieve it. We can guarantee that you'll simply fall in love with the raw photos and videos readily. However, we have a competent team of professionals who can work magic on your photos and make you look the best in every single shot. We are a proven group of professionals for wedding photography in India who knows exactly what to do to deliver the finest bridal photos. As mentioned earlier, the day of your matrimony will come around only once in your lifetime and with time, the memories of the day will fade. When you hire the service of bridal photoshoot, the photographs and videos are the best and perhaps, this is the only way to refresh the memories of the things that happened on the occasion.
Your chemistry with your spouse is definitely going to show in the photographs that our bridal photographer takes of the two of you. To us, photo session is an art which we have been able to master as a result of years of being at our job. The adage 'practice makes perfect' certainly holds true in our case, and each one of our clients till date has been able to reap the benefits of our perfection.
You can blindly rely on the fact that you are not going to find better bridal photographers than us anywhere else in Kolkata, so it would make sense to avail our superior services on the auspicious occasion of your matrimony.
Testimonial

Such a relaxed artistic clever photography team with a great sense of humor and who goes above and beyond to get that perfectly unique shot! We truly were blessed to have you all...from start to finish, the level of detail showed to capture creative and unique shots was amazing. Thank You. Edit all with fatafati effect...

Your input was invaluable and your help was very much appreciated. You managed to capture so many emotions and such unplanned shots which we love.

Thank you So Much for wonderful click in our Bigday.

PIP Broadcast Team has done a tremendous job with our Wedding and Pre-wedding Shoot. Some fabulously rich photography that captured some of the sweetest moments from our special day. I especially appreciate Total team efforts in making my husband comfortable enough to be the most lovable version of himself.