5 Picturesque Locations For A Unique Pre-Wedding Shoot In Kolkata
Tying the knot this wedding season? Considering getting a memorable pre-wedding photography in a breath-taking destination which offers stunning backdrops? Well, getting a pre-wedding shoot is as important for modern couples as the wedding. But, are you perplexed about where to shoot? Check out the list of quirky destinations in Kolkata where you can have a pre-wedding shoot!
Opting for couple photography in an exotic location just before the big day can give the wedding album a unique feel. While you may have friends who went overseas for their pre-wedding photography, the magic of Kolkata is something which you just can't afford to miss. Moreover, professional wedding photographers in Kolkata believe that nothing can be more special than captivating your romance in a beautiful backdrop which reflects the charm of Kolkata.
Below is a comprehensive list of exotic locations where you can create some un-replicable precious moments!
From The Best Wedding Photographers In Kolkata: Top Spots To Choose From For Your Pre-Wedding Shoot
1. Capture Your Love At Hooghly Ghat
There's something in the morning light which makes it perfect for photography. And, what better way to flaunt your love than having the Hooghly Ghats as your backdrop? The morning life in the beautiful Hooghly Ghats is a unique blend of bathers, boats, local masseurs and religious offerings. During the winters, the smokey atmosphere can create an aroma of mystery in your shots!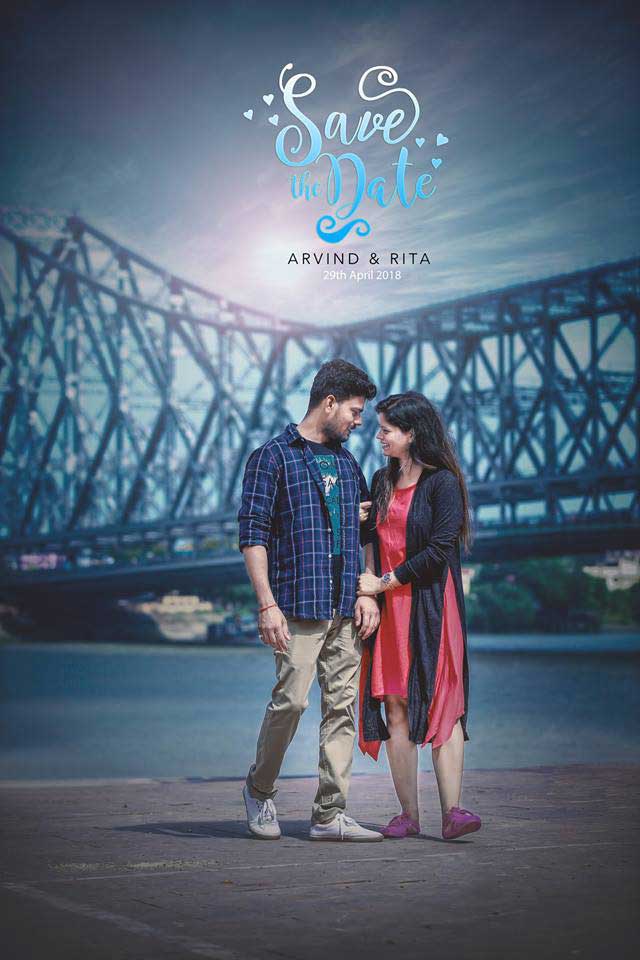 2. Treat Your Souls With the Beauty Of Maidan
With the Royal Victoria Memorial in its backdrop, Maidan is another stunning destination which serves as a great place for pre-wedding photography in Kolkata. From Park Street and Chowringhee in the east to Hooghly in the east, Maidan is a huge stretch of open land which is lined with tram tracks, lush greenery and statues. The main reason why it is so preferred by Kolkata-based couples is its vastness.
3. Let Colourful Idols of Kumartuli Sanctify Your Union
The famous area where craftsmen craft idols of gods and goddesses with utmost perfection is another picturesque location which is widely preferred by couples. Situated in Old Calcutta, Kumartuli epitomises the essence of everything Bengali and traditional. Surrounded by idols in different stages of making, the best wedding photographers in Kolkata believe Kumartuli can be the ideal place for your pre-wedding photography.
4. Bathe In Grandeur At The Prinsep Ghat
The unparalleled beauty of the imperial designs and thick columns of Prinsep Ghat can put in a surreal touch of love to your pre-wedding photography. Made popular by the famous movie Parineeta starring Vidya Balan and Saif Ali Khan, there's something magical about the sunset and elegant silhouette of the mighty Hooghly Bridge against the amazing evening sky.
5. Opt For A Green Romance At Botanical Garden
Nestled in the west bank of River Ganges in Shibpur, the Botanical Garden can be one of the most spectacular locations in Kolkata for a pre-wedding shoot. The place is ideal for every couple willing to steal a few intimate moments in the lap of nature from all those prying eyes. The famous Banyan Tree here can offer a beautiful natural backdrop to your photos.
So what are you still waiting for? Approach a reputed wedding photographer today and create some everlasting memories during your pre-wedding shoot!
In addition to the above places, you can also consider the following two if you are on a budget.
Cleanse Yourself in the Purity of the Rabindra Sarovar Lake
One of the places that is already quite popular with couples from all over the southern portion of the 'City of Joy' is the Rabindra Sarovar Lake area. This is another place where you can find greenery in abundance with the advantage of having the lake in the background. Your pre-wedding photographer is surely going to deliver a bunch of breath-taking photographs if you choose the Rabindra Sarovar Lake as one of your spots.
Choose the Charm of Rabindra Sadan
Another part of the city which offers some great opportunity for the loveliest pre-wedding photography session is the Rabindra Sadan. The classic appeal of this part of the city is undeniable, so you can rest assured about the fact that you are going to be posing for some of the most beautiful photos that you can imagine. This place is also one of the prime suggestions from professional wedding and pre-wedding photographers.
So what are you still waiting for? Approach a reputed wedding photographer today and create some everlasting memories during your pre-wedding shoot!