5 Poses Every Hindu Bride Should Try For Her Wedding Photography
Having a beautiful wedding album with all those candid and creative poses has always been your dream! Now that your wedding date has been finalized and you have shortlisted a few reliable wedding photographers for your D-day, your mind is now occupied with the thought of clicking some beautiful and striking photographs. This desire of yours can be easily achieved if you stick to the traditional poses that have been universally accepted. But if you are willing to make the photos unique, a slight change to those classic poses will do the needful. The best you can is to let your photographer decide some unique poses for you!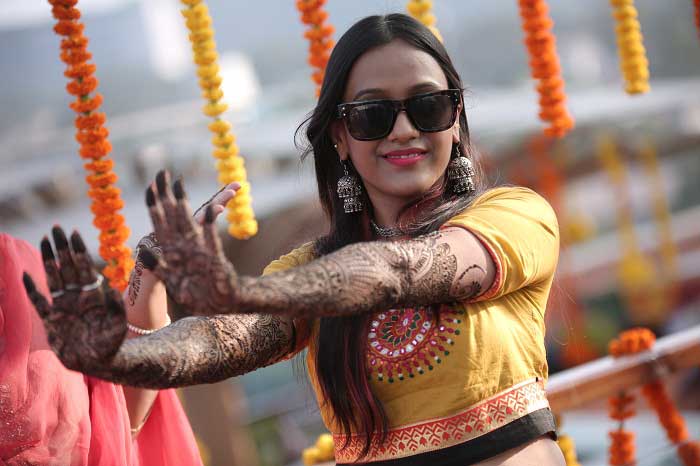 Few Beautiful And Unique Wedding Photography Poses Every Hindu Bride Needs To Checkout
Haldi
The Haldi ceremony is one of the fun-filled rituals in which your relatives and friends apply a paste of haldi to brighten you. Though you might feel worried about that extreme yellow tint ruining the shine of your face, your bhabis and aunts will try their level best to cover every part of your face, hand, and leg with haldi! Capturing the bride with haldi on her face is a must if you are willing to make the pious ceremony more memorable.

Mehendi
If you are a Hindu bride, a picture that you definitely need to preserve in your album is an image of that beautifully designed mehendi on your hand. You wanted the design to be intricate and a close up of it with your body and face being out of focus will enhance the beauty quotient of your mehendi!

Make-Up
A bride with her makeup done by some professionals is definitely a treat for the eyes. Even staring at her throughout the day won't bore you! The photography should not only click a few images of the bride in her bridal make-up but also while the make-up is being done. Just make sure not to disturb the makeup professionals and let them completely focus on enhancing the beauty of the bride.

Bridal Wear
When we talk about Wedding Photography Poses for a Hindu Bride, having an image of the bride in her favourite bridal wear is a must! While the bride is sitting in her charisma and grandeur, waiting for her prince charming to arrive, the photographer can click some gorgeous pictures of the bride in her bridal attire. Irrespective of her flaunting a lehenga or bridal saree, use the correct light and setting to create some memories for life.

Candid Moments
Though making the bride pose for her wedding photographs is a cool idea, capturing her candid moments can also create similar magic. Try to click a candid photograph of her confident smile. Capturing those facial expressions and gestures will make the memories of your D-day even sweeter.

Though the poses stated above are really unique, they are just a few! The best is to let your photographer use their years of experience to click some unique images which you and your partner can cherish for the rest of your life!
BONUS POINTS FOR THE MODERN BRIDE-TO-BE!
The 'Oh-So Beautiful' Feet
Just like those dazzling hand shots, don't you think you need to get some really stunning photos of your feet too? Well, you got them pedicured by sitting an hour or two, adorned them with spectacular mehendi or aalta designs, bought that stunning payal and complemented it with bridal heels. So, after spending so much time on taking care and beautifying your feet, you just cannot afford to get them captured.
The Grand Bridal Entry
From celebrities like Priyanka Chopra and Anushka Sharma to your friends who have tied the knot before you, every bride gets her grand entry in the mandap captivated in beautiful frames. Whether you will be carried by your brothers in a pidi or will make the entry in a doli, you will be the only center of attraction at the moment. And, capturing this final walk of yours as a "Miss" is a must!