Check Out This Elegant Wedding & Set Major Wedding Goals!
Who doesn't love having a gorgeous wedding full of cool ideas? Do you wish to bring your secret wish of setting wedding goals to life? But, are you perplexed about the ways to host a wedding which totally steals the heart of your guests? No worries. We are here to help you!
A gorgeous red lehenga and a pretty grey dress, this Indian bride gave us major wedding outfit goals. What we absolutely loved are the color-coordinated outfits of the groom to complement his bride throughout the wedding ceremonies. Be it the sangeet ceremony or the wedding in itself, every function was simply spectacular. And, PIP Broadcast- The professional wedding photographers left no stone unturned in ensuring that the remarkable memories of this wedding get captivated in beautiful frames!
Meet Ankita & Vaibhav
Ankita lovingly pens down the way she and Vaibhav met and how he proposed her. She says, "One can easily say that the seed of our epic love story was sown by our fathers in 1995 when Vaibhav's father joined the company where my father worked. They became the best of co-workers who relied on each other. But, it was not until 2009 when we met at a party."
Ankita further adds, "Destiny played Cupid when both the families went for a short trip. By the time the trip ended, we had developed a crush on each other and soon became friends. Our journey has been full filmy. Even though we did split a few times, we rejoined with a stronger realization of how truly we love each other. But, with the passage of time, we discovered having similar likes, behavourial pattern, beliefs and interests."
The bride goes on describing the proposal story, "He asked me out on my 25th birthday and took me to a place which I loved the most. Amidst a romantic setting, he popped the question and I said YES. The rest is history!"
The Sangeet
The Make-up Session
The Grand Entry
The Wedding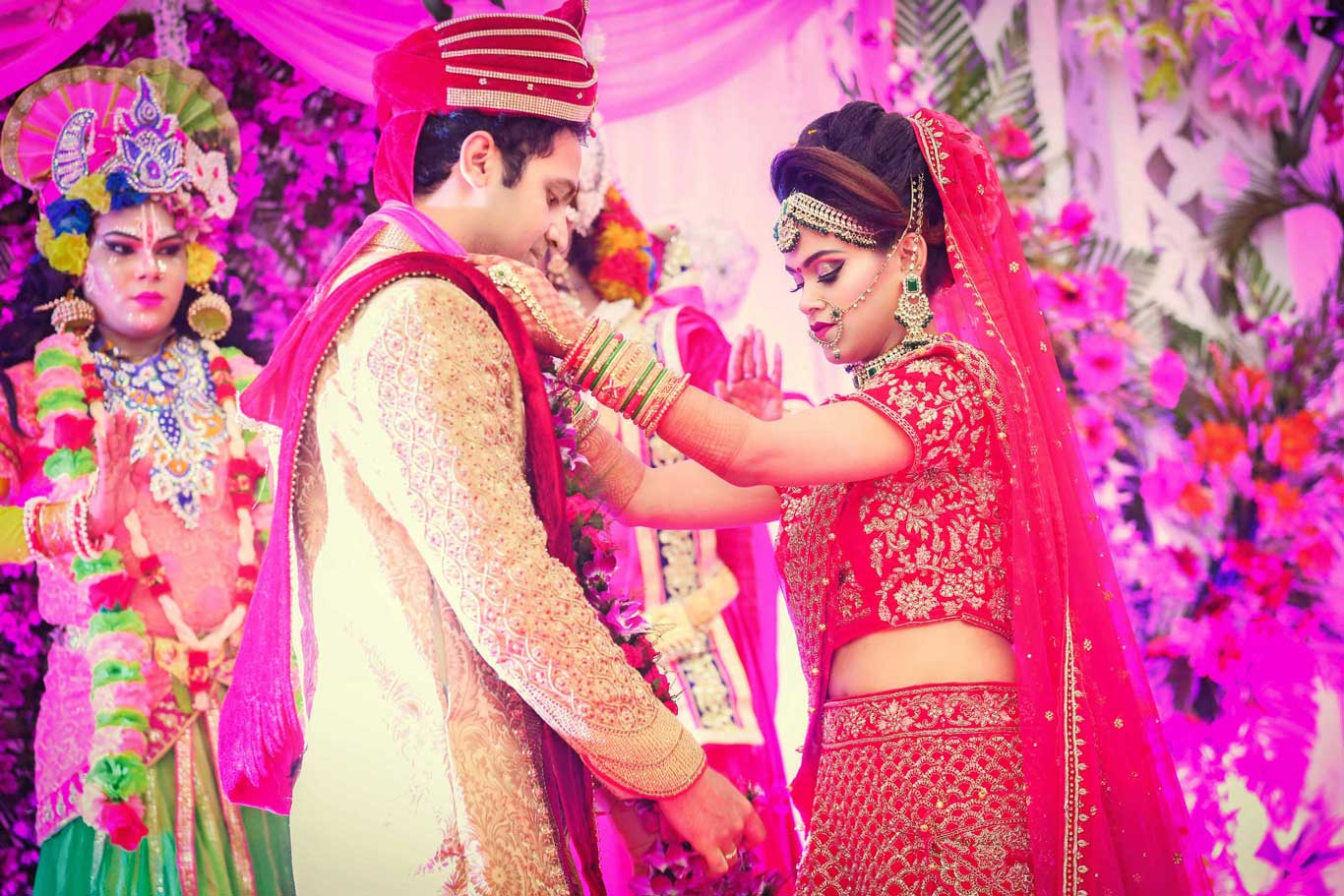 Portraits
From The Groom
Vaibhav says, "We always wanted a wedding with the people who are close to us; with elders giving us their blessings and friends who would celebrate with us. And, now that the ceremonies have ended, we are delighted that the wedding has been just the way we dreamt of. Our professional wedding photographers in Kolkata did wonders with their cameras and captivated every emotion with utmost detail. In short, it was a week full of numerous events, all our dear ones under one roof and a million happy memories which we will cherish for the rest of our lives!"
Ankita and Vaibhav's wedding was one of the most elegant weddings we have ever been to. We wish the newly-weds a Very Happy Married Life!