Monsoon Wedding Guide: Beauty Tips for the Indian Bride-To-Be
Tying the knot this monsoon season? Congratulations! A monsoon wedding can be very fun. But, do you know that getting married during the rainy season in India can be both romantic and a wee bit chaotic? Wondering how to put your best foot forward on your big day? Fear not! Keeping in mind a few vital aspects is all you need to do to be the centre of attention the big day.
Weddings in India are incomplete without rituals, traditions, grandeur and a fun atmosphere. From the decorators creating an imposing backdrop to the best candid wedding photographers capturing the natural reactions of everyone, the beauty of Indian weddings is unparalleled. While it's true that every season has its own set of pros and cons, dealing with the monsoons is particularly tough. Careful consideration is thus needed to ensure you look your finest best on a rainy-day wedding.
Check out the handy guide on bridal dressing below for a memorable monsoon wedding.
5 Beauty Tips For Every Monsoon Bride To Look Radiant On The Big Day
1. Pick Your Bridal Outfit Wisely
Brides in India are known for wearing heavily embroidered sarees and lehangas on their big day. However, it is best to avoid heavy fabrics like brocade, silk, velvet, etc. in the monsoon season. Keeping in mind the high humidity level in air, it's always best to prioritise good fabrics such as chanderi, cotton silk and organic blends.
2. Opt For Minimal Embellishment
Intricate embroidery work like zardozi, gota patti and dabka tend to blacken when they come into contact with humid air. This is true especially for embroidery done utilising actual silver threads. So, it is always advisable to save your heavily embellished lehengas and suits and instead buy festive collections with exaggerated silhouettes to boost the style quotient of your wedding outfit.
3. Go Easy On Your Cosmetics
Your wedding day is one of the most special days of your life and it is obvious that you will want to be the centre of attention by looking your best. However, applying heavy makeup during monsoon is the best idea. As a substitute, try using non-greasy, minimal makeup which helps by mattifying the skin. Make sure you choose waterproof products since the moisture in the air can ruin your look easily.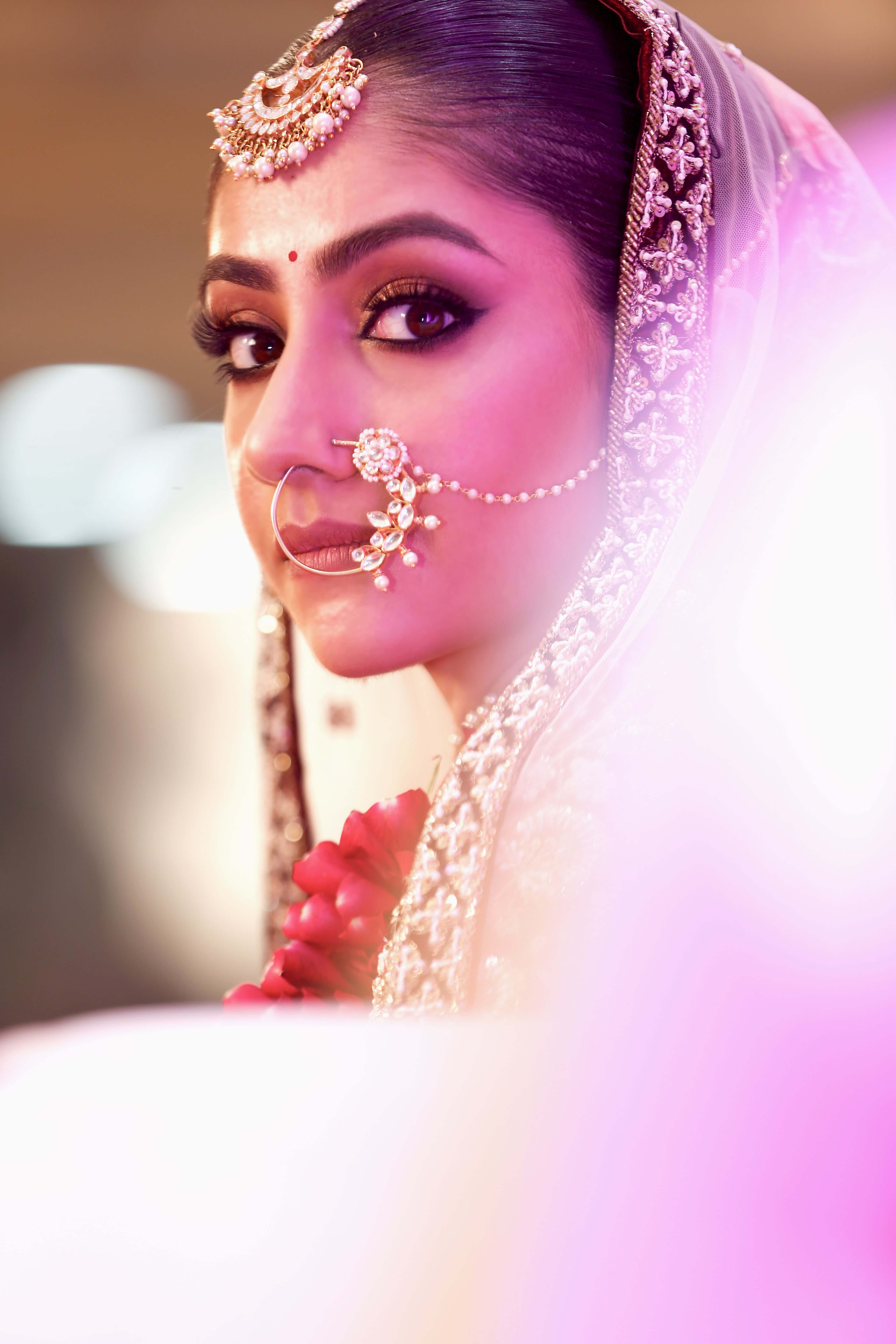 4. Select Comfortable Footwear
Before you get excited at the very idea of wearing heels for your monsoon wedding, think again. If you are planning an outdoor wedding during this time of the year, it is always best to skip high heels and jelly shoes. Just like your bridal outfit, even your footwear needs to be comfortable. Choose comfortable shoes with smaller heels such as platform or wedges. Cool brides can even opt for jootis.
5. Pay Attention To Your Hair
Excess humidity and rain have the tendency to mess hair. So, it is always recommended to wash your hair twice or thrice a week with a mild shampoo during the rainy season. Ensure you choose the conditioners since they add weight to the hair, thus making them look oily. For a healthy hair, feast on seasonal fruits and protein-rich and nutritious diet. Just before your wedding, consider giving your hair some additional care with a deep-conditioning treatment.
Time to be a gorgeous monsoon bride!
Also, read: What Can Your Wedding Photographer Do for You? An Expert Explains