Perfect Colour Combination for Your Wedding Photographs
Wedding photos are special for obvious reasons. They are clicked to make those special moments of your life memorable for you and your loved ones. Hence, you must know how to make them even more intriguing. Your wedding photographers may suggest you a lot of things regarding the poses, outfits, decorations and space, but one vital thing you should not miss is the colour combination while posing for your wedding photos.
Colours play a significant role in creating that magical effect in every image taken at wedding and reception ceremonies. Hence, it is crucial to understand what type of colours you should use for the wedding venue decoration, your outfits and other accessories so that every photo will get the perfect aesthetics.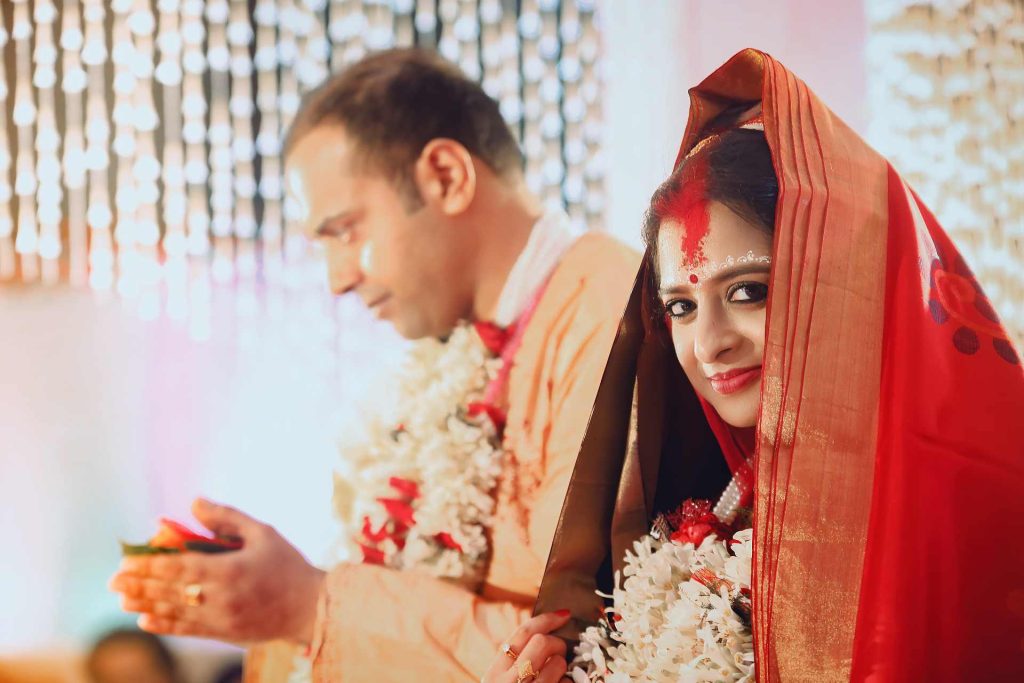 Some Fabulous Colour Combination Ideas
1. Red and Yellow: In an Indian wedding, the colour red plays a vital role. From the vermilion to the outfit of the bride – red seems the pivotal colour in the entire ceremony. Brides generally wear red saree or lehenga, and grooms also wear red sherwanis or Punjabis. The use of yellow flowers, curtains or other accessories can make the pictures bright, vibrant and eye-catchy.
2. Maroon and Off-White: This is another very bright combination that can bring vibrancy to every photograph of your BIG DAY. If your bride is wearing a maroon saree, you can use off-white flowers to decorate the sitting areas. Even a bridal chair with off-white upholstery can be a perfect background for solo bride poses.
3. Green and Yellow: Use various shades of green and yellow to decorate the venue. This will not only become eye-soothing, but you can also get some amazing pictures of your wedding and reception because the combination of green and yellow always look beautiful and bright in wedding albums.
4. Orange and Pink: You can use orange carnations are a symbol of happiness and enthusiasm. Pink is the symbol of beauty and charm. You can use various hues of these two colours in your wedding dresses, decoration and flowers. The combination of these two bright colours will help you to get some fabulous pictures for your wedding album.
Discuss with Your Wedding Photographer
If you are not sure about the colour palate to be used for your wedding decoration, you can talk to your wedding photographers. These experts have vast knowledge and excellent ideas about the perfect use of various colours to make your wedding album alluring in every sense.
PIP Broadcast is one such company. We are known for our outstanding wedding photography services with the best videography services in and around Kolkata.