Why Professional Wedding Photography Is A Priority?
After all those scrumptious food has been consumed, dazzling floral arrangements have become wilted, your wedding dress has been put away – the wedding photographs will be all to give you the essence of your wedding day and cherish every single moment of the event.
One day and immeasurable memories
Wedding is not just an event – it's about a lifetime of unforgettable memories. It creates numerous moments that you'll cherish throughout your life. Wedding photography narrates a beautiful story of your 'D' day – a day that'll be a part of your soul for rest of the life – a story of togetherness of two hearts. Your wedding album represents a pictorial story that you'll show your family, friends, and later your kids and even your grandchildren. It's something that you'll treasure forever.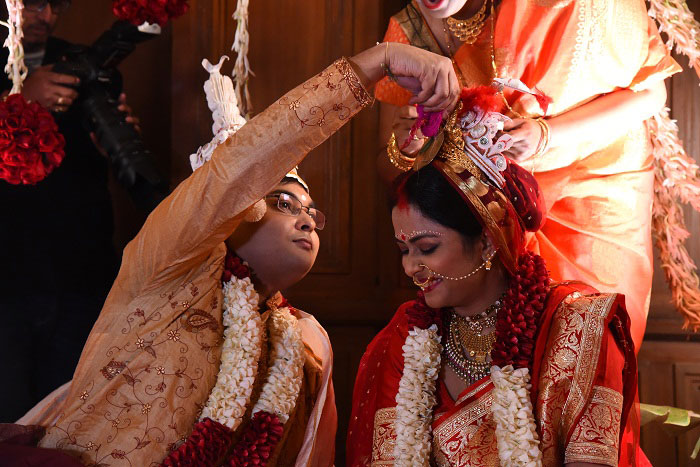 Though not the most important part, it's certainly a preference to capture every moment and turns them into sweetest memories. As the day of wedding is in the offing, couples speak to a lot of suppliers – from caterers, florists, bridal boutiques, dress designers and so on. It's surely important to get the flowers, have the best food, the most gorgeous dress and that's good. But what about wedding photography that will conserve all your candid moments in a frame? You may want to curtail your wedding budget by bringing in a family member or hiring an amateur or low-cost inexperienced photographer, but that's not worth. At the end of the day, you'll surely look for some quality picturesque version of your moments. Such moments can't be created, they just happen and to immortalize those moments, you must hire an utmost professional, experienced, hawk-eyed photographer who won't miss even a single precious moment to shoot.
Hiring a professional photographer – A priority
Why Wedding Photography Should Be A Priority? Well, this is a precious question. As already told, wedding is not just about a day. It's all about priceless moments bundled together. And wedding photography is one of the most important aspects of wedding. Only some captured moments will be there when everything else will be packed up and stored away. It's the photographs that will be looked at over and again. So it's imperative employing a professional wedding photographer according to your budget, requirement and taste. Wedding photography is not meant for any particular event; it's about the activities and rituals related to a wedding.
Reasons to hire a wedding photographer
There may be a hundreds of reasons, but some of them are as follows,
Captures immortal moments – Professional photographers have both experience and expertise. They're aware of all important moments related to a wedding. They anticipate and capture every detail that would make the wedding day really special. True photographers know how to confine the smiles, joy and tears of this exceptional day. They can even presume all those magical jiffies before they actually happen. But you can hardly expect such qualities from an amateur or low-budget wedding photographer who may miss many unique and spontaneous moments.
Projects great lighting – Great lighting is another crucial reason to hire a professional to lock up those extraordinary instances of your wedding. Good lighting is simply inevitable for stunning and beautiful photographs. But this is something that most would-be couple doesn't even think about. Amateur photographers are very likely to be limited with their knowledge of lighting while trained and experienced pros know proper light techniques. They know how to make even the simplest moment into a gorgeous one using best lighting.
Carries backup equipments – Unlike amateurs, professional photographers always carry ample of backup instruments to their wedding shoot. They perhaps have invested good chunk of money in additional camera bodies, myriad of sophisticated lenses especially manufactured to shoot low-light situations, additional lighting and flash equipments, different types of CF cards, laptops, card readers, batteries and many more that you can even imagine. They use such instruments and equipments not just to ensure fantastic photos but also to make a backup copy of the wedding images before leaving the site so that if the original photos get damaged or destroyed somehow, the backup copies can perfectly complement the loss. That peace of mind you can never expect from an inexperienced or amateur photographer.
Enhances the charm of get-together – Wedding has always been a rare get-together. In our daily, mundane routine, it's not always possible for us to be in touch with our friends and relatives. But while making the guest list, we usually try to include our dear ones whom we can't be in contact with on a regular basis. Wedding is the only occasion where you can find everyone to present and share their happiness and grieves. It would be a grand idea to capture those Kodak moments during the event of wedding. In addition, wedding is the event to unite a man and a woman for a lifetime. Besides, it's the union of two different families who come forward along with their whole troop of friends and family to wish the couple for a happy married life. And hiring a professional wedding photographer would be the perfect option to preserve all those pleasant memories of the big day.
Detains moments to cherish while staying away – If you consider other facets of wedding photography, you'll understand its importance in our daily life. After marriage, it's quite possible that you need to stay apart from your newly wedded spouse because of your job. Who would be your companion their? Of course, your wedding photographs and videos that play very significant role to give you company while you're miles apart. Looking at those wonderful photos of various rituals and ceremonies, wedding dresses, dance and everything would give you a strong sense of togetherness.
When you already know how professional photography is crucial in capturing the entire wedding occasion, why should you consider hiring anything less than a pro with years of experience and extreme proficiency? Hiring a professional allows you to sit back, relax and enjoy your day, having entrusted your sweet memories to a truly professional in the wedding niche.