5 Stunning Must-Have Close-up Bridal Shots To Inspire Every Bride
Getting hitched this wedding season? Weddings in India are pretty much about the brides. From choosing the bridal outfit to planning the makeup, it's the one day which is more or less about HER. And, as a bride-to-be, ensuring your wedding is perfectly captured in its truest essence by an experienced wedding photographer should be on your priority list.
Wondering what makes professional wedding photography so important? Well, it is your wedding photographs which are going to be the visual storytellers of one of the most special days of your life.
Wedding close-up photos are essential for every couple as they encapsulate the precious details which go behind planning and executing the big day. From the jewellery which the bride adorns to the vidaai ceremony, each facet which comes together in completing the grand event form a part of the wedding album. And, the sheer beauty and elegance which close-up bridal portraits exude are unmatched, making them a must-have for every bride.
Scroll down to check out the close-up shots you must bookmark for your bridal portrait.
Beautiful Close-Up Shots Modern Brides Should Have For Their Bridal Portraits
1. 'Getting Ready' Portraits
Getting ready shots are some of the most memorable shots which capture the bride's excitement in an unrehearsed way. Captivating the 'behind the scenes' portraits of the bride getting ready is a great way to capture natural emotions. From a group of bridesmaids laughing at a joke to a teary-eyed mother draping her child's head with a veil, these moments can add an edge to the wedding album.
2. The 'Spectacular Bridal Jewellery' Shot
The ideal bridal portrait demands eye-catching jewellery since jewels add oomph to a bridal portrait where the face is the centre of attention. When you walk down the aisle, all eyes in the venue will be on you and the jewels you wear. Skilled wedding photographers will use special lighting to capture the reflective glow of the gold and diamond jewels on your skin or accentuate the pearls in your maang tikka.
3. Bridal Close-Ups – A Super Duper Yay!
Eminent wedding photographers understand that every expression of the bride – be it close, up as well as personal, needs to be captured for the photo album. Be it the winning smile when you are all decked up as a beautiful bride or the contemplative look while eagerly waiting for your baraat to arrive, experts ensure that no details are left out. The camera will be the witness to each of your deepest emotions as they get reflected on your face.
4. Hair & Makeup Captures
A lot of hard work, as well as patience, go behind perfect hair and makeup. From checking the eyebrow arch to the face, both you and the makeup artist need to ensure that everything is on fleek. Furthermore, heaps of hairspray is applied to ensure that every strand of your gorgeous tresses' remains in place. And, such a team game deserves many wedding close-up photos top exhibit the precision and perfection of the ultimate outcome.
5. Oh-So Gorgeous Mirror Shot!
Are you REALLY a bride if you just cannot stop admiring your amazing bridal beauty in front of the mirror on your big day? The best photographers believe that reflections in the mirror can be arresting compositions. The mirror witnesses your wedding day beauty transformation, making it the perfect creative space to get some mesmerising shots captured. For instance, you can use your veil for an added touch of drama to your bridal mirror shot.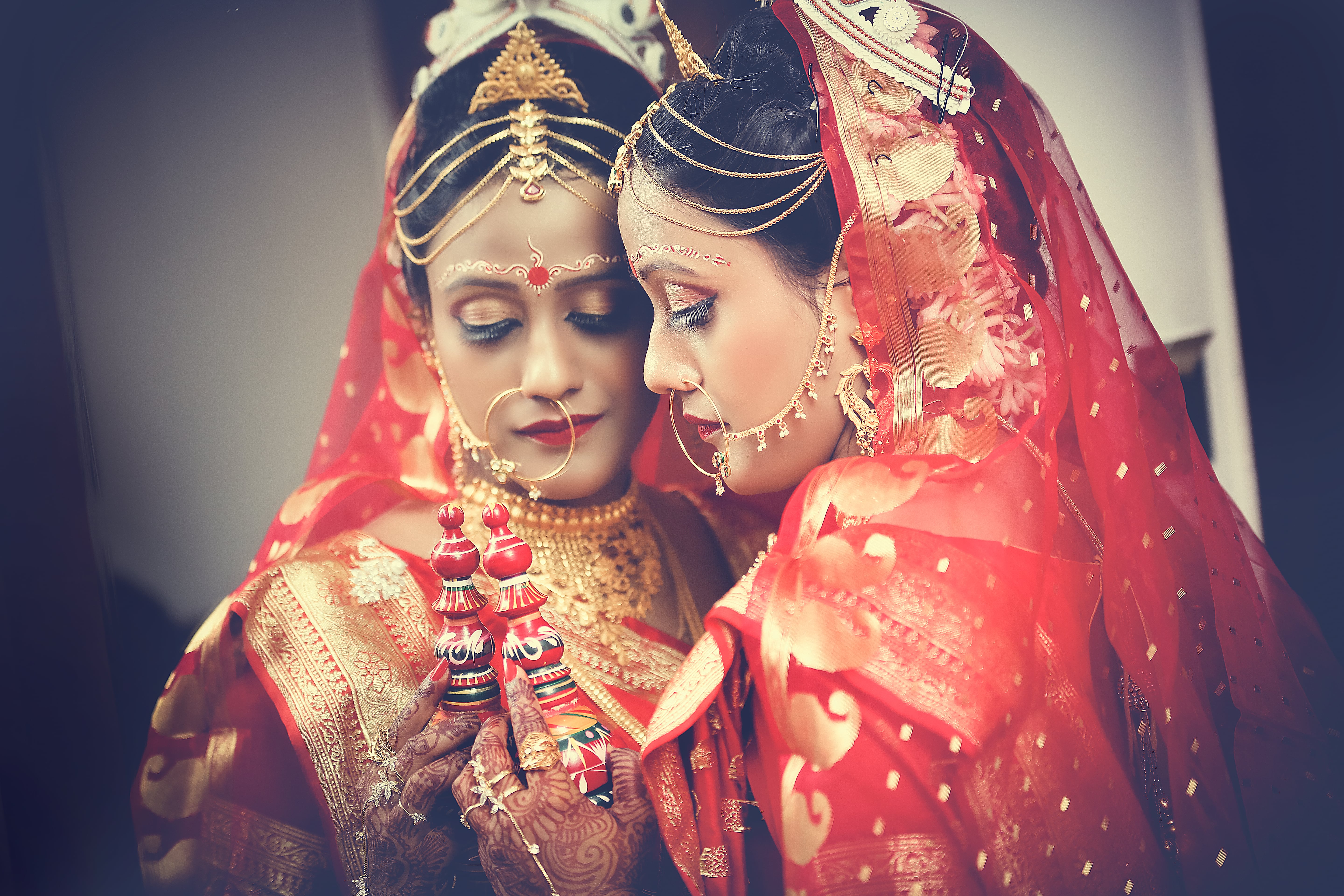 Want to click so more striking photographs for your wedding album? Check out the  "5 Poses Every Hindu Bride Should Try For Her Wedding Photography"
Bridal portraits are undoubtedly the soul of every wedding album since they show the bride resplendent in her wedding finery with countless emotions. So, what are you still here for? It's time to get stunning solo bridal portraits!
AUDIO VERSION:
5 Stunning Must-Have Close-up Bridal Shots To Inspire Every Bride